Your website traffic is on the rise and now you need something even more powerful than shared hosting. It's the perfect time for you to put some money in VPS. It's more powerful, scalable, and easily managed than shared servers.

Reports of Webinar Care say, "Out of all sub-sectors, Managed VPS is expected to expand by the highest CAGR of 16.5% from 2019 to 2026." This is enough to show the popularity of this astounding tool.

Let's explore more about managed VPS below.

Managed VPS hosting Definition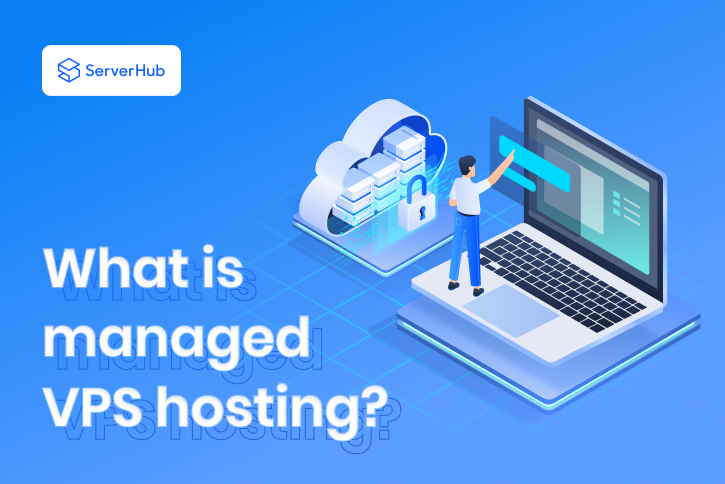 For those who are not familiar with VPS, it stands for Virtual Private Server. An end user can access virtualized server resources through a cloud or hosting provider over the internet with a VPS.


Managed VPS hosting is a managed service where you don't need to worry about anything related to server maintenance. Regardless of technical skills, anyone can choose fully managed VPS hosting. Your service provider will take care of all server maintenance tasks, including software installation, core updates, security backups, etc.

Therefore, instead of spending time managing servers, you might instead concentrate on expanding your company at the same time.

Managed VPS Hosting lessens your workload gradually, which means, as a business owner, you will have peace of mind and don't need to worry about server management. The virtual private server has different usages, benefits, and disadvantages too, before choosing VPS as your next hosting solution, get to know more about Virtual Private Servers and everything you need to know and if it is worth it as well as the differences between managed VPS and Unmanaged VPS.

Top 10 Benefits of Managed VPS Hosting


1. Complete Root Access

VPS hosting offers the benefits and convenience of both shared hosting and dedicated server hosting since it combines their features. Although your managed server is isolated from other servers, you may alter it to meet your needs if you have full root access.


2. Higher Uptime

Managed VPS hosting plans are usually offered with 24/7 support, where a team of technical support can diagnose and fix any technical problems that might occur for your server.


3. Faster Performance
Your website will load quicker if you have more CPU cores, RAM, and storage space. Having said that, several system options and tools can help speed up the server. VPS hosting can be upgraded to higher plans with more cores and RAMs and deliver peak performance for your server.


4. Boosted Security
One of the major issues with shared hosting is that vulnerabilities from adjacent accounts might damage your website. By placing your website in an isolated container, this issue is eliminated. A configuration that adheres to the most contemporary security standards is also something your managed VPS provider will guarantee for you as a customer. You need all the aid you can get, as cybercrime is constantly increasing.


5. Scalability
Virtual private servers (VPSs) are deployed by virtualization. Here, a part of a physical server's hardware resources are allotted to a virtual machine and are dedicated exclusively to this machine.
You can often make use of load monitoring features with a managed hosting provider, which will show you just what kind of server resources you're consuming at any given moment. Using this information you can estimate the time you will reach the server's maximum capacity and upgrade when necessary.
You can count on steady performance by increasing storage, RAM, or CPU cores, as per your requirements. In addition, you do not have to reboot your virtual machine to execute an upgrade.


6. Regular Backups
A functional backup might be the difference between a speedy and easy recovery and an extended outage period if your website goes down. The frequency of your backups should be determined, and you should also consider how to store your backups. However, if your server is self-managed, you will be in charge of setting up and installing a backup solution. A tool for quickly recovering data should be included with your managed VPS, and if you run into trouble, you can always call your host's support staff for assistance.
An integrated backup solution is typically included with a managed VPS. Your automatic backups and snapshots are usually kept on a distant server, preferably, so that you always have easy access to a live version of your website.


7. Dedicated Resources
The hardware resources of a shared server are utilized by hundreds of users. The server's performance might be threatened if only one of the hosted websites suffers a significant increase in traffic, which would have an impact on the other projects that are housed on the server.

This is not a problem when using a virtual private server. Users of VPSs are guaranteed to have hardware resources set aside exclusively for their server and always available. The service is thus quicker and more dependable.


8. SSL Certificates
Currently, most current browsers will mark your website as "Not Secure'' if it doesn't have an SSL certificate, and you'll also have a worse search engine rating. Fortunately, the University of Michigan, the Electronic Frontier Foundation, and a few IT firms formed a non-profit certificate authority- Let's Encrypt, that provides SSL certificates at no cost.

Nowadays, you cannot operate a website without an SSL certificate. On a self-managed VPS, installing it could be difficult, especially if you've never done it. However, this shouldn't be an issue if you have a VPS from a managed hosting provider where the majority of well-known web hosting control panels come pre-installed with tools that facilitate the installation of Let's Encrypt SSL certificates.


9. Expert Support
VPS providers often offer around-the-clock support, via several different channels, and are prompt enough to resolve any issues. Never ignore this factor, especially when using a managed VPS service. Hence, expert support is one of the biggest advantages of using a managed VPS service.


10. Affordable Price
VPS costs have decreased dramatically in the current period, occasionally reaching less than $10/month, such as Serverhub VPS hosting which starts at $5 per month. A managed virtual server package also saves you the extra costs associated with employing and training extra IT professionals. Due to all of this, it is a very affordable solution that fits even the strictest budgets.


Nothing is worse than paying for a service or product, receiving the bill, and discovering there were additional charges that weren't disclosed. Every business, including the one that provides web hosting services, frequently has hidden costs. It is essential to do your research before purchasing a service rather than signing up for one that will cost you a lot more money than you thought.

There aren't any so-called "hidden costs" when using the fully managed VPS hosting service provided by ServerHub. However, you might have to pay an additional amount in case you're willing to upgrade your server after deployment.

Conclusion
With several advantages, it is clear that managed VPS hosting aims to close the gap between shared hosting and dedicated servers. The reliable hardware resources and dedicated IP result in a quicker, more dependable service, and since your hosting company handles the majority of the server maintenance duties, you don't need any sysadmin expertise to fully utilize the improved performance. Last but not least, managed VPS solutions provide excellent value for the money due to the effective utilization of hardware resources.

The relatively inexpensive cost, flexible disk space, bandwidth allocations, and, a large number of included hosting features (on-site backup, automatic software updates, and patches) make VPS web hosting very popular among online business customers.


Get The Most Reliable VPS From ServerHub!
Shared hosting might be enough if you have a website that receives very little traffic and does not require advanced functionality. A VPS is nearly always a superior alternative with more performance and versatility for the majority of other enterprises. Choose ServerHub for the fastest and most affordable VPS hosting.


Additional Resources:
>> In Skilled Hands: A Data Center Technician's Tasks
>> Top 5 reasons to deploy a private cloud