Do you know what is a dedicated server? Are you looking for information that guides you in your search for dedicated server hosting? If you are reading this article, then it means that you most likely need one, and we have the answers for you with Serverhub's ultimate guide to dedicated servers.
Dedicated servers are stand alone systems that provide users with the ability to host software or websites on a machine that's only accessible by authorized users. You can purchase or lease a dedicated server from a hosting platform and use it for a variety of purposes, ranging from storing your own data, installing software, and setting up an independent website on the same domain or subdomain as your existing site. A satisfactory dedicated server can also provide a high-speed connection, allowing your company's website to be responsive and efficient in terms of usage as well as speed.
This blog will provide you with a detailed overview of what dedicated servers are, their example, and how you can choose the best one.
Let's get going!
What is a Dedicated Server?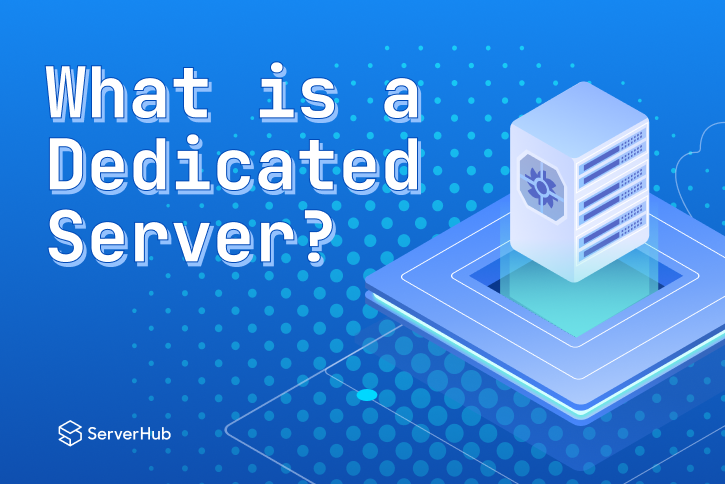 Dedicated servers are powerful and scalable server hardware used to host websites, databases, software, and/or other services that require a high level of resource utilization. It is also known as a bare-metal server and it can be purchased or leased from a Dedicated Server Hosting platform for a single use by a single client. A dedicated server is typically used by organizations that require high levels of performance, security, and control.
For example, large enterprises may use dedicated servers for their critical applications. Small and medium-sized businesses may use dedicated servers for their e-commerce websites or for resource-intensive applications. Dedicated server clients tend to have full control over the server, including its operating system, hardware, and software. Dedicated servers are usually more expensive than shared servers, but they offer greater performance, security, and control. Moreover, you can also get a cheap dedicated server customized just to serve your needs.
Dedicated Hosting VS. Shared Hosting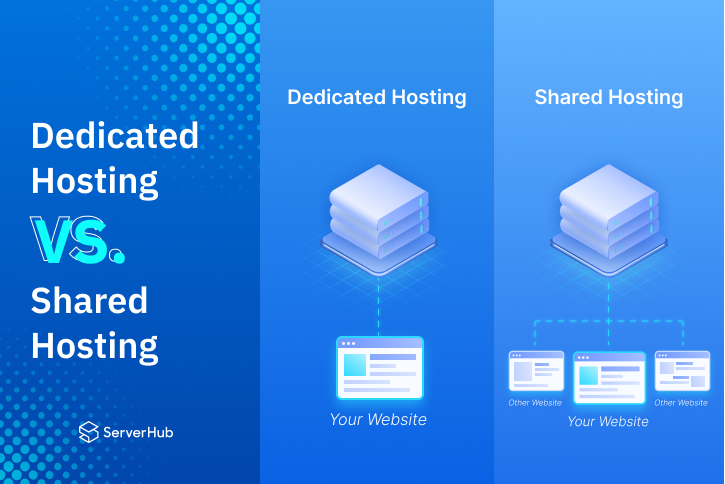 Dedicated hosting has become increasingly popular in recent years. It allows a website to have its own server, which can be a great advantage for businesses that receive a lot of traffic. However, it is important to note that dedicated hosting is more expensive than other types of hosting, such as shared hosting.
Shared hosting is a type of web hosting in which a website shares a server with other websites. This can be a great option for businesses that do not receive a lot of traffic, as it is more affordable than dedicated hosting. However, it is important to note that shared hosting can be less reliable than dedicated hosting, as websites can be affected by the activities of other websites on the same server.
Let's simply show you the major differences between Dedicated Hosting and Shared Hosting in the table below:
| Comparison | Dedicated Hosting | Shared Hosting |
| --- | --- | --- |
| Resource Maintenance | It requires low or zeroes host maintenance. | Maintenance for shared hosting is usually offered by the host. |
| Bandwidth | As organizations do not share dedicated servers, they have greater bandwidth than organizations that do share hosting. | Being shared, it has less bandwidth as compared to dedicated servers. |
| Security | Dedicated hosting is more secure. | Shared hosting is less secure due to its shared nature. |
| Cost wise | With so many features, dedicated hosting becomes more expensive than shared hosting. | With so many features, dedicated hosting becomes more expensive than shared hosting. |
Businesses that are considering using web hosting services should carefully select the servers that satisfy their requirements.
Examples of Dedicated Servers
There are many dedicated servers on the market, which makes it more difficult to choose the one that meets your business requirements. In light of the usage and specifications, we have divided dedicated servers into two rather distinct categories, namely processor type and hosting objectives.
Processor Type
The processor types determine the dedicated services' initial classification. Here, you can evaluate the servers you need by taking into account their processor type.
Single Processor Servers:
A server with a single processor is referred to as a single-socket server because the motherboard only has one socket for a processor, meaning that only one CPU is ever in use on the server. These types of servers are budget-friendly. Single-processor servers are specially designed for websites with low traffic.
These are cheap dedicated servers and are provided from 4x3.3GHz to 10x2.2GHz as per the budget, still, if you buy these dedicated servers from a reliable dedicated server host, you won't be compromising on the performance. The clients can easily customize these servers and get the assembling done, considering their requirements and affordability.
Dual Processor Servers:
As the name suggests, dual processor servers are those servers with dual CPU sockets on the motherboard and can use two processors at once. Given the fact that it has two simultaneous operational processors, the performance of the dual-processor servers is better than the single-processor servers.
Other than that, dual-processor servers have double the RAM as compared to single-processing servers. Larger businesses with high website traffic thus can prefer these as satisfactory dedicated servers because they can easily handle the demanding workload.
Big Data Storage Servers:
Specialized servers designed for managing massive volumes of data are known as big data servers. Due to the wide variety of software, unique servers that can manage the high demands of big data are required. Big data processing requires the utilization of specific software, storage, and computing techniques to handle enormous amounts of unstructured data. On a big data server, there is plenty of processing power available for analytics, storage, and retrieval.
Private VPS Node Servers:
A virtual private server (VPS) is typically thought of as a single virtual computer on shared physical hardware with additional VMs. When virtual machines are hosted on dedicated hardware, single-tenant, dedicated instances, and hosts add an additional layer of isolation, control, and visibility.
Servers for Streaming:
Video streaming servers are system software that allows users to stream videos regardless of the operating system. A streaming server can be a virtual or bare metal device and allows content providers to land videos, audio, or any other media streams to a consumer of such content in real-time.
Such servers need advanced storage, memory, and network capacity to store large volumes of data and deliver them to a consumer's device without buffering, and with a minimum delay. Hence, network speeds and bandwidth are vital in ensuring fast and constant delivery. That's why dedicated streaming servers should be located at a trustworthy and powerful streaming dedicated server hosting platform like ServerHub.
Hosting Purposes
Dedicated servers can also be categorized depending on the hosting purpose. This will help you easily choose the server that matches your needs as per the nature of the website and/or application you tend to use.
Web Servers:
These are the types of servers that enable you to transmit and deliver web pages to users over the internet. They are configured to watch for and respond to requests. The web server will handle a request and provide the requested data when one is made.
Game Servers:
You are undoubtedly familiar with game servers if you have ever played online games. These demand a lot of resources to manage the heavy workload while delivering several gaming streams, just like application servers do.
Database servers:
These servers are ideal for handling numerous requests and large data files. Users may occasionally want a dedicated server to manage just data processing. Database servers, in these circumstances, are specific computers.
Web application servers:
These servers function similarly to web servers. However, web apps vary in that they often require more criteria to be met and use more resources. To serve remote users, web applications are run on specific servers.
Email Servers:
Larger businesses that process a lot of emails may wish to install specialized email servers. These provide their customers with a high level of autonomy and security throughout the whole enterprise and are particularly well suited to managing online messages.
How to Choose the Best Dedicated Server Service!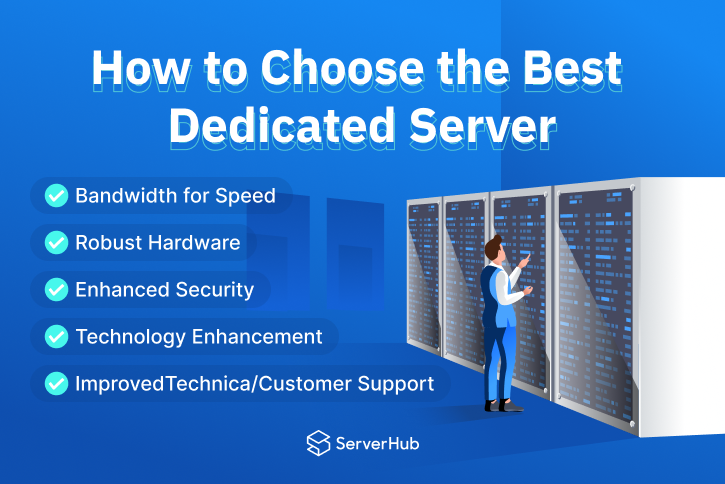 If you are looking forward to having a high-performance application or website, then you should consider a reliable dedicated server hosting service. This will not just improve the responsiveness of your website but also add advantages like security and reliability. Choosing the best-dedicated server service can be trickier than you think it is.
So, here are some tips to help you choose the most suitable dedicated server service for your project or business requirements!
Bandwidth for Speed
When choosing a dedicated server, bandwidth is one crucial thing that you should never forget to consider. Bandwidth in general is the speed at which your data travels from one node to another. However, in terms of dedicated servers, the definition changes a bit. Here, it means the amount of data offered by your dedicated server service to you. The nature of the tasks that you want your website to perform determines the bandwidth that you choose. For example, websites with low traffic need less bandwidth, whereas streaming websites require higher bandwidth.
Robust Hardware
Hardware used to assemble the dedicated server plays a vital role in deciding its performance and cost. This makes it a very important factor to be considered when opting for a dedicated server. A competent dedicated server service provider will always provide you with an option where you can customize the hardware of your server and choose the one that goes with the requirements of your website. This will not just serve your purpose but also make the whole arrangement cost-effective.
Enhanced Security
When choosing a dedicated server, security is one of the most significant factors. In order to prevent hacker attacks on your high-traffic website, you should have a dedicated server that is highly secure and robust. Give security features a high priority when choosing one to ensure dependable service.
Technology Advancement

Nowadays, no one wants to use servers in an old-fashioned manner, so it's a good idea to look for a dedicated server provider capable of providing you with the latest, most technologically advanced features. There are a number of qualities to choose from, such as auto-scaling, private IP addresses, and free service port selection.
Improved Customer Support
Once you start considering any dedicated server hosting platform, the very first department you usually get in touch with is technical support. Furthermore, once you begin to take advantage of the services, you might need to get in touch with the same team to get assistance.
A trustworthy dedicated server service always has a responsible technical support team. In addition to addressing your concerns and resolving them, that team is responsible for providing you with the highest standard of assistance possible. Thus, when choosing the appropriate service, you should look for a company with good technical support personnel.
Get Highly Reliable, and Affordable Dedicated Servers!
It can be challenging to select the best dedicated server hosting platform that can meet all of your business, educational, or even personal-usage needs, but once you do, you can take full advantage of it.
At ServerHub we offer our clients the best in class, highly reliable, and secured servers at an affordable cost, packages start at $48/month. Along with the different packages of servers available at Serverhub, we also believe in giving our customers the finest service possible, which includes:
Servers available at 11 locations around the globe

Customized solution

Fast, reliable and knowledgeable support with every service offering

Powerful management

24/7/365 Support

100% network uptime
So, if you're interested in getting a server for your corporation or business, don't hesitate any longer and buy a Dedicated Server from ServerHub to enjoy lightning-fast speed right away. Order now!
If you have comments, questions, or inquiries about our services, we would love to hear your suggestions and concerns. Drop them in the comment box below and allow us to work on them!
Additional Resources:
Single Processor Servers: Types, Uses, And Reasons For Investing In Them
How to Set Up an Affordable Dedicated Bare Metal Server