There are an estimated 12 - 14 million eCommerce websites worldwide as of 2022, according to multiple sources, this number might be tripled over the next year, especially if counting the number of companies establishing their online presence or individuals creating online CVs or personal websites, therefore starting a web hosting reseller business seems like a lucrative business venture, especially if it's built correctly. We can help with demonstrating how to make money reselling web hosting in just 10 steps.


What is a reseller web hosting business?

Reseller web hosting is the process where you purchase or lease wholesale hosting services from a hosting provider and then resell these hosting services to customers- individuals or businesses- visiting your website or mobile application while generating a profit margin of your own.


Why choose a reseller web hosting project?
Establishing a web hosting reseller business has lots of advantages, besides, it could be easy and require minimal financial resources in addition to the following benefits:


No initial investment fund is needed

There's no fund required to purchase the technology, infrastructure, tools, or any gear to offer reseller web hosting services to your clients. All you need to do is just get a reseller certificate from the hosting provider, create your web hosting website or application and you are ready to launch your reseller business.


Easy Start

Building a reseller web hosting project can begin immediately once you build your brand website and get the reseller packages from a web hosting provider.


Generate a reasonable amount of revenue

for your business by adding a profit margin to every hosting package, resulting in a lucrative return on your investment.


Building Connections

With web hosting services you tend to build a customer base of individuals and companies interested in web hosting services, which will give you a competitive edge by building good connections with potential, current, and new customers.


Expansion Opportunities

You can establish a website that offers web hosting reseller products and consider expanding into additional services and more add-ons, such as malware detection, spam blocker, and SSL certificates or you can offer a whole bundle of services including dedicated servers, VPS hosting, and shared hosting services, offering such services would give you an excellent opportunity to build a larger brand, increase your market share and allow you to grow your customer base.


Start a reseller web hosting business in 10 simple steps

Starting a web hosting reseller project might be confusing, especially if you are new to the business, however, you can guarantee a successful launch for your project if you follow these steps: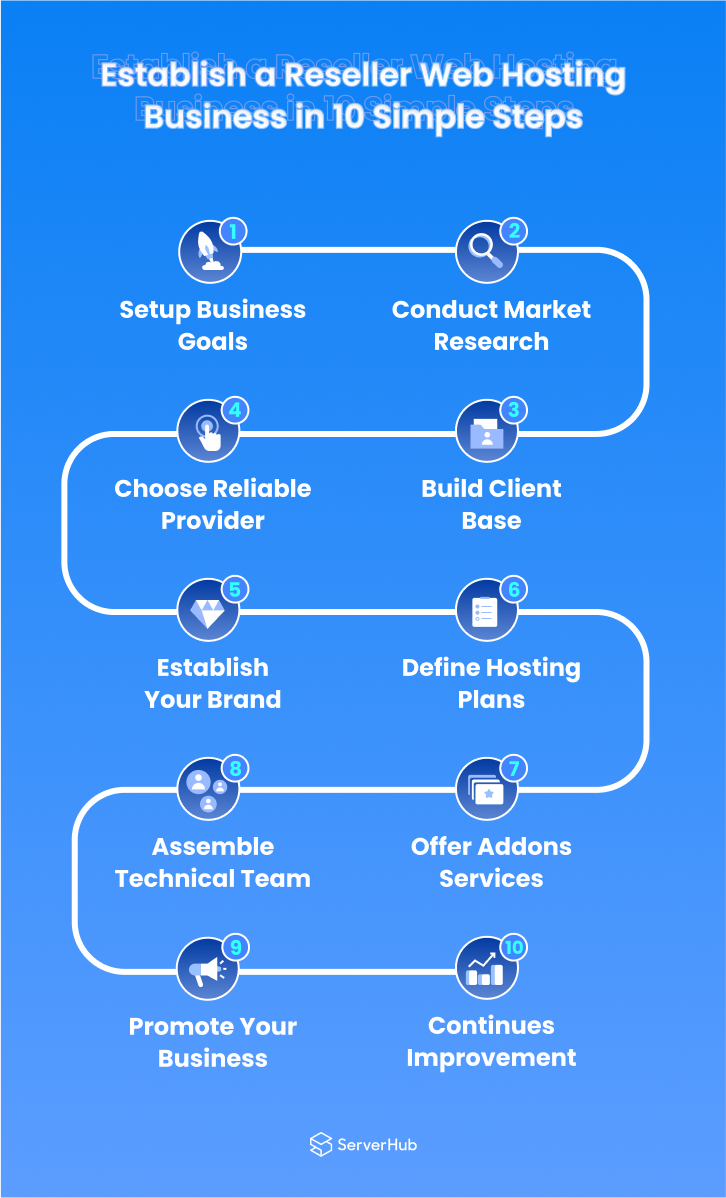 1. Setup Business Goals
There are plenty of web hosting services, VPS hosting, shared hosting, dedicated servers, bare-metal…etc. So before you start, get to know which product you will offer, what are your business goals, and what you want to achieve short-term and long-term. Remember to make these goals realistic, achievable, and measurable. Your expertise and previous experience are other pieces of the puzzle, capitalize on your field of experience, and use your knowledge to leverage your business and offer something unique to your customers.


2. Research Market and Competitors
Typically, you want to offer something unique, and trustworthy to entice customers to join your business. Research other competitors, figure out what they offer, what makes them successful, and how you can provide something similar but unique as well. You can offer the newest technology or something that others don't, research your target market, and try to fathom what products this market lacks, and what web hosting services customers need. Finding the right product to sell is the key to achieving faster success.


3. Build Clients Base
Know the target audience beforehand. Build a client base, reach out to your connections, colleagues, previous employers, and relatives, and collect as much as you can from the contact information of customers who are willing to buy web hosting services and consent to share their data. In the future, you would get to use this data to market your products, send discounts and promotions and build awareness about your brand.


4. Choose Reliable Web Hosting Provider
Partnering with the right web hosting provider will save you time and money. Look for reliable providers who have the best uptime, and network availability, not only can provide additional valuable add-ons, but also offer 24/7/365 technical support.
In addition, a white-label partnership is very important to build a stronger name for your brand. Make sure to choose the provider who gives services such as dedicated IPs, free Bandwidth & IP pooling, discounts on hardware upgrades, license discounts, and reseller-dedicated accounts.

Serverhub web hosting reseller program is one of the few providers that offer white labeling partnerships, different reseller tiers according to your business needs, several servers volume, and license discounts and promotions.



5. Establish Your Brand
The branding process for your project is essential to differentiate you from others, branding entails choosing a name that expresses the services provided, the more the name is catchy, the more it will stand out. Define the project coverage, and which countries will be served, taking into consideration the language barrier for marketing and communicating with your clients.

Characteristics of your brand such as vision, mission, logo, and theme are equally important to the offered products and services, make sure to thoroughly build a strong and positive perception of your brand by carefully establishing your brand identity.


6. Define Hosting Plans and Prices
From thousands of products and services out there in the market of web hosting, you need to get your hosting plans and prices right, or you are destined to confuse your customers.

Make sure to design clear, simple, and consistent hosting plans that clearly showcase your products and services, be bold in comparing others, and don't shy away from listing the main features that make your products standouts against other competitors.

Consider clients with different project sizes and make sure to provide the right hosting solutions for their business. Serverhub offers server packages designed for different business needs: mobile applications, e-commerce websites, gaming applications, streaming services, IPTV services, and Deep Learning Servers.

You might focus on a vertical product line and present web hosting plans with different levels of performance and prices significantly different from each other, or provide a horizontal product line where all your products and services are simply consistent with each other but only differ in the sizes and specifications offered.


7. Offer Addon Services
You can leverage more tools and technologies to benefit your business by adding more add-on services to your packages. Security tools such as SSL certificates, DDOS protection, viruses, malware, and spam blockers are vital for any web hosting service and will add an edgy benefit to your business when offered at reasonable prices.


8. Assemble Technical/ Customer Support Team
A team of technical support specialists in different areas of support is important for your business and your clients in the first place. Assemble a team of technical and customer support on rotating shifts and provide the needed tools to receive, resolve and monitor your clients' requests, and tickets. There are many ticketing tools available in the market for a monthly subscription that would be greatly appreciated by both your customers and team members.


9. Launch and promote your project
Once you set up your web hosting project as per the previous list, now your business is ready to launch.
Build a website for your brand, and get ready for the launch date. Mark your calendar with a specific date, and prepare the marketing materials, email campaigns, and advertising slots at different display search networks as well as discussion forums or community platforms.
SEO is another part of your homework, a website built with a strong SEO strategy and developed for search engine optimization is the key to reaching a larger number of audiences. Don't forget to build a social media presence on different platforms and apps.
Your final step is easy, prepare discounts and giveaways with your logo, then contact your friends, colleagues, and previous employers and ask them to spread the word about your business, make sure they visit your website on the launch date, share and like your posts and let them know about the discounts and giveaways. Selling to customers in the first 48 hours will boost your business significantly.


10. Continuous Improvement
To build a competitive edge for your business, continue improving the offered products and services. Introduce new products, and offer new promotions. Keep yourself updated on the latest trends and services to be the first to introduce new technology to your customers and always work on your customers' feedback.


Takeaway

Reseller Web Hosting Business is a huge and untouched market. In order to ensure faster success for your business make sure to choose the right web hosting provider, which offers more than just the hosting packages, visit the ServerHub Reseller Program and check the different tiers of the reseller programs offered as well as the program requirements and advantages.